As John lay down his weary head
On Jesus' Holy breast,
He rendered true devotion
(God's child - not just a "guest.")
And much like the beggar man
Who in Abram's bosom rest;
Seems man must persevere
Through persecution's test.
Don't forget poor Thomas
Who HAD to "feel" the pain…
Where Jesus Christ had suffered
To rid the world of shame.
Just like these examples
Of those who learned the TRUTH-
We must lay aside suspicion,
So LOVE can hold and soothe!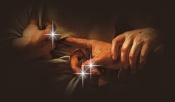 ~penned by lynn foust