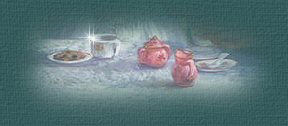 Simple Truth
(Based on:
Proverbs 30:5
,
30:24-28
,
Luke 12:23-31
,
Hebrews 13:5
)
Seems it's in the "little" things
Where we find the truth;
Never complicated, 'fisticated,
Idle, or uncouth!
Ofttimes a small reminder
Is exactly what we need...
To break the hardness of our heart
And plant a tiny seed.
If we just remember
Holy words from up above;
It's in the plain and simple things-
Where we find God's LOVE!


~penned by lynn foust